BACKGROUND
My childhood experiences with family farming in the alpine region of France, the specialized school training and various professional experiences allow me today to bring a global vision on the cheese projects integrating all aspects of the production from herd management to final customer distribution.
Thorough studies in biology, cheesemaking and milk processing
>ENILV (National School of Milk Industry) in « La Roche sur Foron » 1999-2001 : BTS (Diploma of superior technician food industry specialized in milk and cheese technologies) 
>University « Claude Bernard LYON1 » in Bourg en Bresse 2001-2003 : IUP (Professional University Institute) master's degree in biotechnologies and bio-industries option production manager.
Professional experiences
1996 – 2007
> Cheesemaker in Beaufort technology (hard cheese) in dairy cooperative (6 years) and in traditional alpage mountains (5 seasons)
2002 – 2022
>Consultant for the Beaufort cheese consortium
>Cheese plant and aging facility set up (Full A to Z project set up from plant layout to final cheesemaker training and follow-up) : Brazil, Argentine, USA, France
>International consulting (training, product development, project studies, technical follow-up, conferences) : Brazil, Iran, Nepal, Canada, Georgia, Egypt, Poland, Switzerland, Argentine, USA, Canada, Russia, Mongolia, Kirghizstan.
>Various consulting in France (small creamery to large dairy group)
1998-2011
> High level athlete on the French national Ski-mountaineering team and 2008 world champion.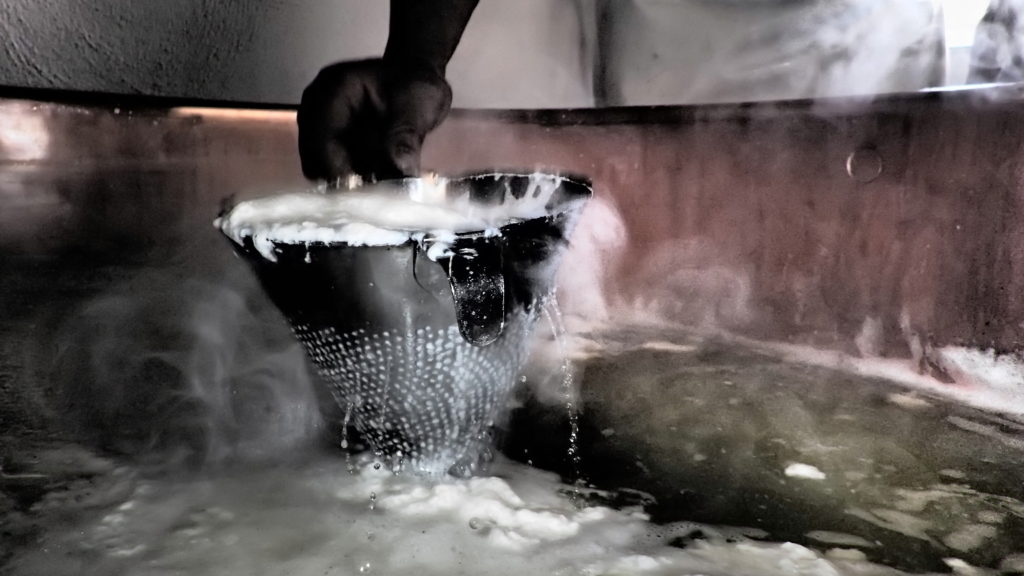 SOLUTIONS
My work is performed directly on-site, off–site (feasibility studies and follow up through phone/email), and in combination of both ways
TRAINING
>Technical training in cheesemaking and dairy technology, production management, pathogen control.
>Organization of conferences and customized "cheese class" with small scale training production
STARTING UP OF A NEW LINE OR OF A NEW FACILITY (A to Z, or on more targeted tasks)
>Building layout advice (global conception of the factory with the contractors),
>Workspace organisation (product and worker flow, position of clean and contaminated areas…)
>Equipments design and integration onto the production process (finding and working with the most adapted manufacturer), from milk storage to cheese packaging lines.
>Start up and organisation of production,
>Set up of the process,
>Cheesemakers training,
>Follow-up
ASSESSMENT OF EXISTING PRODUCTION SYSTEM
>Different assessment for the owners, managers, manufacturers, board of director
>Global state of the factory (worker management, production organization…)
>State of a production line
FEASIBILITY STUDY
>Set up study for the implementation of a new line, new factory, new process, new equipment
SOLVING TECHNICAL ISSUES AND/OR PRODUCTION OPTIMIZATION
>Identification of problems and implementation of corrective solutions,
>Improvement of the efficiency of a line or a factory through a reorganization of the tasks and the work flow
ACHIEVEMENTS
Project feasibility studies for cheese plant in USA, Georgia, Iran, Egypt, Russia , Nepal, Mongolia
Project studies for whey economic valuation and biogas whey treatment plants in France from small (5000 L/day to large 50 M L/yr)
A to Z cheese plant project assistance in USA (VT and NY state), Brazil, France : Product orientation, building layout, Equipment design, production set up, cheesemaker training, and multi year follow-up
Technical advisor for the Beaufort consortium since 2010. Visiting around 20 Beaufort mountain and cooperative producers, once to twice a month.
Conferences in USA, Canada, Russia
Cheese plant audit for owners, managers, manufacturers, board of director in France, Kirghizstan, Poland, USA, Argentina. Production efficiency, pre-purchase, technological audit, etc.
Cheesemaking – dairy technical training and "cheese class" in Russia, USA, Brazil, Argentina, France. Training on special technology directly in the cheese plant, or through a theoretical session and lab experiment. Product development and product trouble-shooting work in France and all countries visited